Smoothline Colorbond Fencing & Installation Perth
We've been offering Colorbond fencing to Perth residents for years and are big believers in their range of products. We find they're easy to install, attractive and economical. But they're definitely not for everyone. Don't forget, we're not just limited to Colorbond fencing and gates. If you're looking for something else, have a look at our Smoothline fencing Perth home page. Otherwise, read on! Once you're done, have a look at examples of our work then why not find out more about our local contractors.
What Are The Benefits of Colorbond?
Colorbond is a brand of steel made by Bluescope – a multi-billion dollar Western Australian manufacturer that's on the stock exchange. Colorbond is renowned for its quality, crisp wavy look and nationwide marketing campaigns. We offer only the best quality Colorbond fencing products. We think it's better for you if you've got a fencing expert you can rely on! Colorbond's products are all made and designed right in our backyard. Now we don't mean our place in Greenwood! But in a large facility in Western Australia, so you get locally based Perth Colorbond fencing business backing with that local flair. Below are more benefits:
Includes a zinc phosphate treatment and powder coating
Doesn't doesn't burn and is a CSIRO and Bushfire Council recommendation
Doesn't need much maintenance – just occasionally a clean and it's good to go
Forget about getting bothered by rot or termites like wooden fences do
Come with a 10 year warranty for your ultimate peace of mind
Made from 100% recyclable material
No gaps by design means you get real privacy
Dimensions and Details
We've got two types of Colorbond sheets that you can choose from – sameside and ridgeside. Same side Colorbond steel has the signature wavy pattern on both sides of the panel. Ridgeside is the older but more classic Colorbond fence style where the pattern is only on one side of the panel. Each fence panel is 2380mm in length. Heights range from 900mm to 2100mm. 170mm to 300mm plinths for the bottom are available. 300mm allislat or lattice panels can be fitted to the top for added aesthetic. We offer free measures and quotes for fencing in Perth. So leave this to us and get in touch to book a time.
Colour Chart
If you look past the yank spelling, you could probably guess that Colorbond is offering a serious range of colour options for your fencing needs in Perth. Fourteen in total. Below you'll find a comprehensive chart of our range. Get in touch and let us help you pick the ones that perfectly match your property.
We also have 5 new colours;
Monument

,

Shale Grey

,

Windspray

,

Ironstone

and

Dune

. Call us to find out more!
We'd love to have a chat and help you find your best fencing solution. So call us today. We beat quotes.
Colorbond Retaining Fence
Colorbond Residential Fence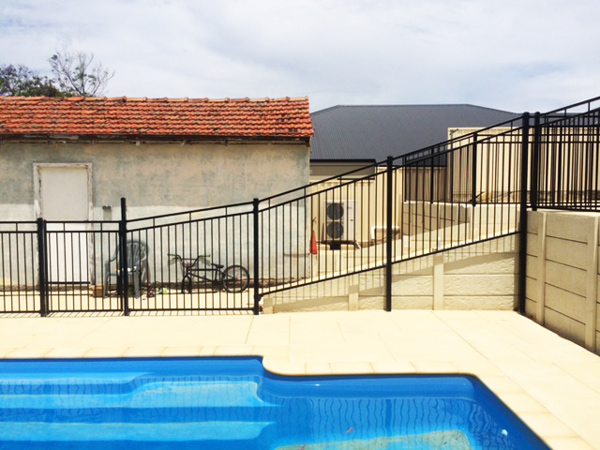 Colorbond Pool Fence
Get in touch for a free quote!