Perth's Leading Supplier and Installers of Colorbond Gates
Are you looking for the highest quality when purchasing your new gate? Colorbond is a brand of steel made by Bluescope – Colorbond is popular with residential home owners for its quality, crisp wavy look. They are designed to last for an extremely long time due to their quality manufacturing process. All products are made in Perth, so be assured of quick turnaround and great customer service. Check out our range of steel plinths infill boards or aluminium slat fencing to compliment your new gate.
All gates made by Smoothline Fencing Perth are built in a large facility, so you get a big business backing with that local flair. Below are more of the benefits:
Strong locking mechanism
Anti-theft design
Child locks available
Include a zinc phosphate treatment and powder coating
Doesn't doesn't burn and is a CSIRO and Bushfire Council recommendation
Doesn't need much maintenance – just occasionally a clean and it's good to go
Come with a 10 year warranty for your ultimate peace of mind
Made from 100% recyclable material
No gaps by design means you get real privacy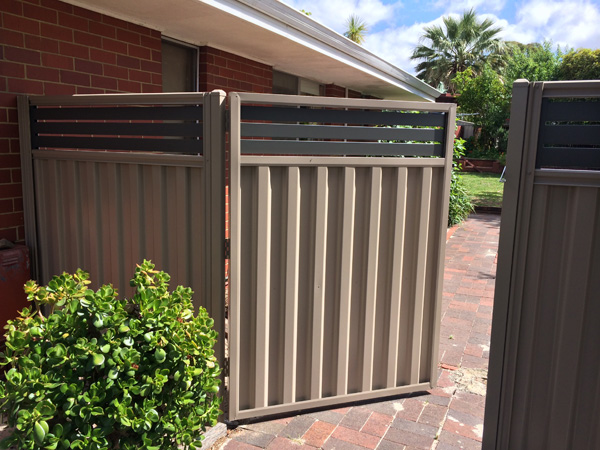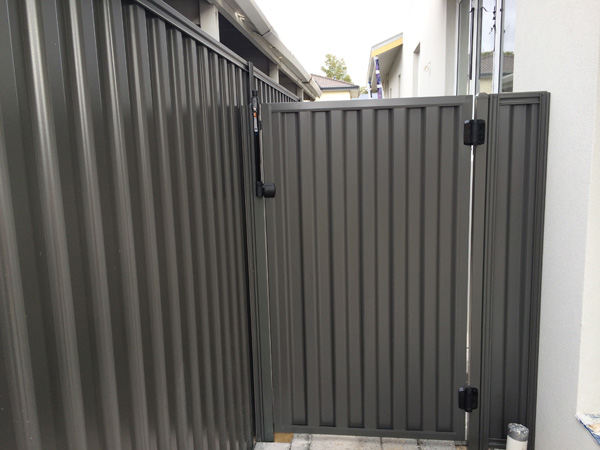 Why Chose Colorbond?
We can custom build your gates for any residential application – whether it's for a driveway or side gate. You can choose from a D-Latch (Standard), Magna Latch or Lokk Latch Deluxe Lock. They are a great way to add a secure perimeter and entry into your house.
Gate Dimensions and Details
We've got two types of gate styles that you can choose from – sameside and ridgeside. Same side has the signature wavy pattern on both sides of the panel. Ridgeside is the older but more classic style where the pattern is only on one side of the panel.
Colorbond Colour Chart
Colorbond offers a serious range of colour options. Fourteen in total. Below you'll find a comprehensive chart of our range. Get in touch and let us help you pick the ones that perfectly match your property. Do note, we've also got another secret colour called Surfmist that we'd love to share with you. Make sure to give us a call if you need any help deciding on the right colour for your gate.